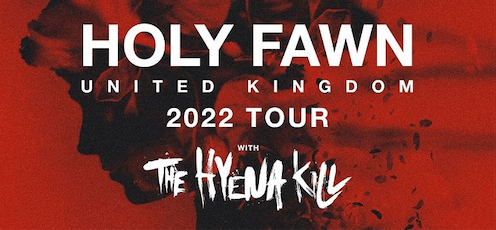 Live Review: Holy Fawn - Deaf Institute, Manchester
26th September 2022
Support: The Hyena Kill, Angel Number
Words: Dan Barnes
Sons of Phoenix, Arizona, Holy Fawn mark the release of their second full-length album, Dimensional Bleed, with their first ever UK show. The Deaf Institute sits just off Oxford Street, conveniently situated between the Academy and the Ritz, with its music hall being the perfect location for Holy Fawn's particular brand of Post-Rock Blackgaze.
Opening the proceedings is Angel Number, a five-piece who peddle ambient sounds propped up by a destructive drum blast. Each of the guitarist performs double-duties with a keyboard throughout, give a rich combination of heavy rhythm and trippy soundscapes.
The Hyena Kill is a local band, fresh from ArcTanGent and ready to make ears bleed, with the deluge of feedback they commence their sonic assault, mixing some Sabbath elements into the alternative widescreen images their sound conjures. The four-piece have admirable stagecraft and the songs to back it up and their latest record, last year's A Disconnect, is well worth checking out.
Holy Fawn might not be the first name to spring to mind when you think of this genre, but the turn out for a Monday night in Manchester is nothing short of remarkable. The band seem genuinely chuffed their endeavours have been rewarded and deal out an hour's worth of monolithic riffs, mixed with beautifully fragile moments.
The set is a combination of the light and the darkness, the primitive and the progressive, all wrapped up in an irresistible musical package. Switching from melancholic Black/Shoegaze to aggressive Post Metal means Holy Fawn deliver on the promises made with their recorded output, by being constantly interesting and never predictable.
But, the best laid plans and all that, sees bassist Alexander Rieth experiencing technical difficulties, leading to a pausing in the performance. Luckily, the situation was remedied before a full-on debate about chicken could begin, leaving the band to kick off tracks from the latest record, including the multi-faceted single, Void of Light.
On a stage bathed predominantly in harsh red light, Holy Fawn rely in the power of their music to engage and, by the time the final notes have faded, no one could deny having been thoroughly engrossed by the band's artistic creations.