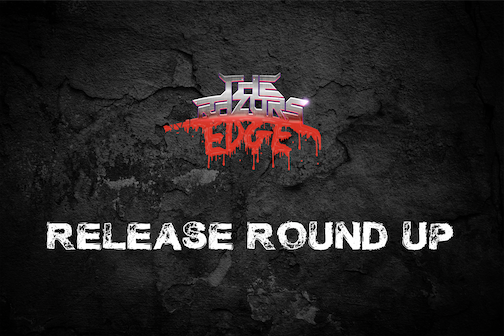 Release Round Up - February 5th, 2021
Every Friday there is a tidal wave of new music released unto the world. Whilst we try to cover as much as possible here at The Razor's Edge, it's not always possible to review everything. So each week on a Friday we'll round up some of the best new music available, some we've reviewed, some we haven't, but all worth checking out!
Theres a lot of new heavy music hitting the airwaves this week, everything from black metal, death metal, gothic metal, Stoner rock, doom, thrash metal and even some of your traditional heavy fuckin' metal!
Here's what we think you should check out today!
The big release this week is from rock gods the Foo Fighters. Their tenth album 'Medicine at Midnight' gets its world wide release today and it's a return to form for the band.
"Its Foo perfection, an ideal progression from 'Concrete and Gold' and cementing the Foo's place in rock and roll history."
You can read our full review of the album and watch the 'Waiting on a War' video here.
From the forefront of the Spanish metal revolution Angelus Apatrida launch their latest album today. If you love thrash, with a heavy influence from Bay Area titans like Testament and Exodus, then you NEED to listen to this album.
"This is an album that bursts with energy and should have any self respecting thrasher desperate to get into the pit."
It's an album we rate very highly! You can check out our full review here and our interview with frontman Guillermo here.
Sticking with the thrash metal world, also out today is the new album from young Mancunians Tortured Demon [review here], Polands very own Terrordome a must listen if you like your aggressive thrash [review here] and Sintax who add a bit of melody into their crushing riffs. And if you a looking for something a little darker there is the blackened thrash of Zebadiah Crowe's new E.P. 'Lych Milk' which we reviewed earlier this week.
Another big name dropping an album today are Finnish folk metal superstars Korpiklaani. 'Jylhä' is released today via Nuclear Blast and to get a taser of it you can watch the video fot the melodic and undeniably catchy song 'Sanaton maa' below. It is a darkly atmospheric & folklore-laden music video featuring actor Yrjänä Ermala in a lead role.
If you like you music a little more experimental or progressive there are a few offerings today that may tickle your fancy! The progressive thrash metal stylings of Neorhythm are first on our list. We enjoyed what we found here when we reviewed their E.P. 'Evils' earlier this week.
Then we have the progressive death metal of Indian outfit Dead Exaltation and their album 'Despondent'. Whilst band name of the week goes to Âge ⱡ Total and the progressive stoner rock/doom on their self titled album.
There's a lot of death metal out today, kore than any other genre in fact. The stand out for us was the new self titled release from Revulsion. We reviewed this earlier this week:
"Brutish punishment in the shape of the bulldozing 'Wastelands', the imperious blasting 'Silence' and the ear-splitting conclusion of 'Viimeinen Rituaali' all tick the boxes."
Check out our full write up here.
Staying with the genre, Miseo aim to recruit listeners with their brute force of german Death Metal with album 'Initium Et Finis'. Theres a new force in brutal death metal hailing from the US as Colossus drop the beastly 'Degenesis'. Denmark's Deiquistor attack your perception of reality on this six-track assault with new album 'Humanoid' and Maestitium add some melody to their otherwise brutal assault in 'Tales of the Endless'.
Kings of post-hardcore, Cult of Luna are back with a new E.P., The Raging River, a stop gap to tide fans over until their new album lands.
"Cult Of Luna are sounding as devastating as ever."
You can read our full review here and check out the release on all good streaming services from today!
Sarin offer a big dose of post-metal with their new album 'You Can't Go Back'.
"Sarin lay this out through thick, plodding, almost sludgy, riffs which form the basis of the album. Infrequently used vocals are gruff and growl over waves of musical passion; those passages of delicate refrain at the heart of nearly every track offer an eye to the hurricane."
We loved the album when we checked it out earlier this week. Review here.
New Jersey-based symphonic metal quintet Everdawn release 'Cleopatra' today. The band is embodied by lead vocalist Alina Gavrilenko, guitarist/vocalist Richard Fischer, bassist Mike LePond (Symphony X), drummer Dan Prestup, and keyboardist Boris Zaks. Through the course of eleven epic new songs, the band delivers forty-eight minutes of epic, progressive, symphonic metal! For a preview of what they have in store, check out the video for 'Your Majesty Sadness' below!
Drone/doom outfit Uncertainty Principle release a reworking of the bands 2000 offering 'Sonic Terror'.
"Using the dissonant soundscapes of the earlier work and combining that with the structure of the latter allows Uncertainty Principle to develop the use of restraint and dirge and juxtapose it against the crushingly heavy and unrelentingly bleak."
Read our review here.
There is a heavy slab of funeral doom on offer from Mourners and new album 'Act I: Tragedies'.
"It moves effortlessly through moods with one moment being unnerved by the strange, dissonant note from a piano line to soaring on the liberating wings of a heart-breaking guitar solo. The beauty of this melancholy is both symphonic yet soul-crushing."
Full review here.
Everyone loves some Viking Metal! And Feskarn offer up 'Raven's Sky' today.
'Raven's Sky' carries the solo artist stamp. It's clever, well collated and crafted but occasionally lacks the breadth that writing with multiple musicians often provides. There are ample driving riffs, dark and guttural roaring vocals that fit in nicely with the themes on offer.
Read our full review.
And the releases don't end there. Aliceissleeping drop a grunge inspired alt-rock album 'Completely Fine'. Lucifuge have a slab of black metal goodness in 'Infernal Power'. Alkerdeel release 'Slonk' a future blackened sludge classic! If you like a more light hearted take on music then there is the comedic metal of ORCumentary and their new album 'Fully ORChestrated'. Death/Doom merchants Felgrave release 'A Waning Light' and Sea Sleeper  reveal their new album 'Nostophobia'.
For some experimental death look no further than Chaos Echoes 'Ecstacy With The Nonexistents'. For grunge melded into stoner rock there is the new album from Appalooza and guitar virtuoso Lawrence Wallace drops solo album 'Journey Through Time'.
Rack and  Grid Failure  release a split E.P. 'The Sun Exploded' if you like things more extreme it is worth checking out. Black TarPoon get their rock on with E.P. 'The Thad'. Komatsu release a sludge beast in 'Rose of Jericho' and UK metalcore outfit Spoiler drop a new single in 'Brighter'.
And thats just the tip of the iceberg! There is so much new music out today for you to get your groove on to. Enjoy it all!