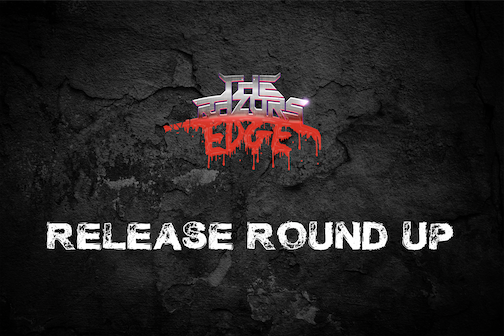 Release Round Up - April 22nd, 2022
Every Friday there is a tidal wave of new music released unto the world. Whilst we try to cover as much as possible here at The Razor's Edge, it's not always possible to review everything. So each week on a Friday we'll round up some of the best new music available, some we've reviewed, some we haven't, but all worth checking out!
Theres a lot of new heavy music hitting the airwaves this week, everything from black metal, death metal, gothic metal, Stoner rock, doom, thrash metal and even some of your traditional heavy fuckin' metal!
Here's what we think you should check out today!
Audrey Horne land album number seven after a four-year hiatus this week with 'Devil's Ball'.
"Devil's Bell is a heart-on-its-sleeve, unabashed tribute to the music of the 1980s but without ever pandering to parody."
Read our full review here.
Undeath release sophomore album 'It's Time... To Rise From The Grave' this week via Prosthetic Records.
"it's inherent power is deeply addicting."
Read our full review here.
British thrashers Xentrix reissue both 'For Whose Advantage?' and 'Kin' via Cherry Red Records this week.
"Thrashing riffs that takes no prisoners"
Read our full review here.
German metal legend Udo Dirkschneider releases the very personal and very unique 'My Way' this week on Atomic Fire Records.
"a way of Udo paying homage to those artists who shaped and influenced his early years and started his journey all those years ago.... It takes a very confident singer to emulate Ronnie James Dio."
Read our review here.
River City Rap Metal trio Guerrilla Warfare fuse hardcore and hiphop on new E.P. 'C O N T R O L'.
"full of heavy chugging riffs with bouncy rhythms"
Read our full review here.
Domkraft and Slomatics team for for a split release this week, 'Ascend/Descend' on Majestic Mountain Records.
"full of thick as syrup riffage, heavier than a bus full of elephants and with added cosmic aura"
Read our full review here.
Flayed Disciple return with a new E.P. 'A Hell In Living Flesh'.
"Ferocious, addictive and utterly pleasing."
Read our review here.
This week enjoy the death doom stylings of Cultic's new album 'Of Fire and Sorcery'.
"what Cultic have pulled off here is incredible."
Read our review here.
The old school death metal force Sentient Horror unleash 'Rites of Gore' this week.
"It's the push-pull ambience between the band's death metal overdrive, and the insistence on a lighter and more ripping album aesthetic that gives Rites Of Gore the energy it possesses."
Read our review here.
Chicago's Huntsmen return with a new E.P. this week 'The Dying Pines'.
"melancholic, and full of dark, bleakness."
Read our full review here.
The U.K. Subs reissue the now classic 'Work In Progress' via Cherry Red Records this week.
"The record is packed with the kind of snotty attitude you would expect from one of the genre's most endearing acts."
Read our review here.
The Catatonics reissue their seminal debut E.P. 'Hunted Down' on Saturday for record store day with a whole host of bonus tracks.
"the high energy wall of noise battering you"
Read our review here.
And thats just the tip of the iceberg! Other releases today we think you should check out include...
Rock / Hard Rock / Classic Rock
A Good Rogering - Systematic Paralysis (Self-released)
BBF - I Will Be Found (Argonauta Records)
Coma Hole - Coma Hole [EP] (Self-released)
Dorothy - Gifts From The Holy Ghost (Spinefarm Records)
Ginger Wildheart - The Pessimist's Companion (Wicked Cool Records)
Marvel - Graces Came With Malice (The Sign Records)
Heavy Metal
Bollverk - Heading For The Crown (Self-released)
Fur De Lance - The Hyperborean (Cruz Del Sur Music)
Kirk Hammett - Portals (Blackened Recordings)
Mein Kopf ist ein Brutaler Ort - Ton Steine Sterben (Metalville)
Mirror - The Day Bastard Leaders Die (Cruz Del Sur Music)
Novarupta - Carrion Movements (Suicide Records)
Scarlata - Power Through (Self-released)
Skull Fist - Paid in Full (Atomic Fire)
SystemHouse33 - Salvation (Self-released)
Death Metal
Azothyst - Blood of Dead God [EP] (Godz ov War)
Bloodred - Ad Astra (Massacre Records)
Compressed - Succumb To Rot (Dark Descent Records)
Credic - Vermillion Oceans (Black Lion Records)
Dawohl - Leviathan (Dolorem Records)
Desecresy - Unveil in the Abyss (Xtreem Music)
Dragonbreed - Necrohedron (MDD Records)
Extinction In Progress - Shades of Pale (Inverse Records)
For The Storms - The Grieving Path (Time To Kill Records)
Helioss - Contre ma lumiere (Satanath)
Se, Josta Ei - Puhuta Gehenna (Inverse Records)
Static Abyss - Labyrinth of Veins (Peaceville)
Temple of Decay - Rigor Mortis (Godz ov War)
The Chapter - Delusion of Consciousness (Self-released)
The Scum - The Hunger (Wild Noise Productions)
Tyrannus - Unslayable (True Cult Records)
Black Metal
Comando Praetorio - Sovvertire la Tirannia della Luce [EP] (ATMF)
Freja - Tides (Babylon Doom Cults)
Truchlo - Strzygi Gwiezdny Demon (Godz ov War)
Vanum - Legend (Eisenwald)
Stoner Rock / Psych / Doom / Sludge
Chimpgrinder - Remasters [Boxset] (Electric Talon Records)
Sator - Cleansing Ritual (Argonauta Records)
Somali Yacht Club - The Space (Season of Mist)
Various Artists - Brown Acid: The Fourteenth Trip (RidingEasy)
Punk
Baabes - Baabes (Riot Records)
Bowling For Soup - Pop Drunk Snot Bread (Brando Records)
The Catatonics - Hunded Down [REISSUE] (Southern Lord)
Thrash Metal
Gadgets Sons - Gadgets Sons (WormholeDeath Records)
Solitary - XXV: Live At Bloodstock (Metalville Records)
Survival Instinct - Fatal Venin (Personal Records)
Womit Angel - Sadopunk Finland (Godz ov War)
And the rest...
Bodysnatcher - Bleed-Abide (MNRK Heavy) [Deathcore]
deathCAVE - II [EP] (Satanik Royalty Records) [Post-Metal]
Deceaded - The Sole Destroyer (WormholeDeath Records) [Groove/Thrash]
Mosaic - Heimatspuk (Eisenwald) [Avant Garde Metal]
Ocean Grove - Up In The Air (UNFD) [NuMetal]
Pyreship - Light Is A Barrier (Self-released) [Post-Metal]
Sicksense - Kings Today (Self-released) [NuMetal]
Some Become Hollow Tubes - Unhealthy For Sensitive Groups (Ripcord Records) [Experimental Drone]
Taliesin - Faceless (Self-released) [Progressive Metal]
Wardruna - Kvitravn - First Flight of the White Raven (Norse Music) [Folk/Rock/Ambient]
Zane - She Has Wings [EP] (WormholeDeath Records) [Doom]