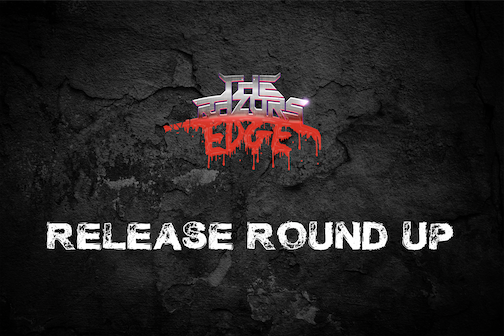 Release Round Up - July 1st, 2022
Every Friday there is a tidal wave of new music released unto the world. Whilst we try to cover as much as possible here at The Razor's Edge, it's not always possible to review everything. So each week on a Friday we'll round up some of the best new music available, some we've reviewed, some we haven't, but all worth checking out!
Theres a lot of new heavy music hitting the airwaves this week, everything from black metal, death metal, gothic metal, Stoner rock, doom, thrash metal and even some of your traditional heavy fuckin' metal!
Here's what we think you should check out today!
Rock pioneers Shinedown release album number seven 'Planet Zero' on Atlantic Records this week.
"'Planet Zero' overall is a musical and emotional rollercoaster"
Read our full review here.
At the front of the British metal revolution Conjurer release 'Páthos' on Nuclear Blast this week.
"Safe to assume this will be already heading into the end of year album charts for many, many people."
Read our full review here.
Party thrash legends Municipal Waste help kick start the summer with new album 'Electrified Brain' on Nuclear Blast.
"they seek to hurl you into the vortex that are their riffs"
Read our full review here.
Death metallers Between The Killings release debut EP 'The Killing Quartet Vol. 1 - Reflection of Murder' this week on Comatose Music.
"packed full of razor sharp violet death metal riffs and vicious carnal aggression"
Read our review here.
Epic doom overlords Lord Vigo drop a slab of heavy in 'We Shall Overcome' this week.
"A fascinating and complex combination of sounds."
Read our full review here.
A Corrosion of Conformity side project, featuring the late Reed Mullin and Mike Dean, Righteous Fool release their self titled debut album on Ripple Music this week.
"a smouldering infusion of hard rock, heavy blues, stoner and punk"
Read our full review here.
This week Haunt release new album 'Windows of your Heart'.
"It's fast, at times aggressively so"
Read our full review here.
Manchester thrashers Vice release 'For The Fallen' this week.
"solid modern metal"
Read our full review here.
German thrash icons Protector unleash 'Excessive Outburst Of Depravity' via High roller Records.
"an old school band playing old school thrash"
Read our full review here.
Mysterious metal outfit Thirteen Goats release 'Servants of the Outer Dark' on July 1st.
"Thirteen Goats seem to be able to shift between thrash, death, grind and heavy metal with ease and accuracy, sometimes all in the one track."
Read out full review here.
And thats just the tip of the iceberg! Other releases today we think you should check out include...
Rock / Hard Rock / Classic Rock
Derek Sherinian - Vortex (Inside Out Music)
Lashes - Angel Eyes [EP] (Hidden Tribe)
Leslie Ripp - The Riddle of Steel (Sliptrick Records)
Mat Ball - Amplified Guitar (The Garrote)
Mexicoma - Kalpa (Majestic Mountain Records)
Rusk - Om Improvement (Nefarious Industries)
Shinedown - Planet Zero (Atlantic Records)
White Tygër - This Is The Life (Self-released)
Wolves Until... - Wolves Until... (Shiny Fast Eardrums)
Heavy Metal
Ironflame - Where Madness Dwells (High Roller Records)
Marraskuun Lapset - Lauluja Elämässä Eksyneille (Inverse Records)
Ren Marabou and the Berserkers - Tales of Rune (United Music Mafia)
Sam Astaroth - Demoncore (Self-released)
Spectral Darkwave - Live Fire Exorcise (Occidental Records)
Thun - II (Eat Lead and Die Music)
Death Metal
A Lie Nation - Sociopathology (Inverse Records)
Horizon Ignited - Towards The Dying Lands (Nuclear Blast)
In Nothingness - Black Sun Funeral (Personal Records)
In Slumber - While We Sleep (War Anthem Records)
Tragos - Radix Mendosus (Self-released)
Vidres a la Sang - Fragments de L'esdevenir (Abstract Emotions)
Black Metal
Am Himmel - As Eternal As The Starless Kingdom Of Sorrow (Burning World)
Devils Tail - Desolation (Non Serviam records)
Hulder - The Eternal Fanfar (20 Buck Spin)
Ophidian Forest - Tales of Doom and Ignorance (Subcontinental Extreme)
Stoner Rock / Psych / Doom / Sludge
Existence Dysphoria - Minus Negative (Sludgelord Records)
Goatriders - Traveler (Majestic Mountain Records)
Orthodox - Proceed (Alone Records)
Then Comes Silence - Hunger (Nexilis)
Veilcaste / Tusk - Split (Wise Blood Records)
Your Highness - The RagBag Vol. 1 [EP] (Hoogheid Records)
And the rest...
Baron Carta - Shards of Black [EP] (Self-released) [Power Metal]
Catalysis - Innova [EP] (Self-released) [Groove Metal/Metalcore]
Conjurer - Páthos (Nuclear Blast) [Post-Metal]
Flames - Resurgence (No Remorse Records) [Thrash Metal]
Greg Puciato - Mirrorcell (Federal Prisoner) [Metalcore]
Suffer UK - The Sorrow You Sow, The Hatred You Know (Self-released) [Deathcore]
Swim or Drown - Torment (WTF Records) [Hardcore]
The Chronicles of Manimal and Samara - Trust No Leaders (Self-released) [Progressive Metal]
Tough of Fridays - Overboard! [EP] (Golden Robot Records) [Grunge]
Tuscoma - Gu-cci (Landmine Records) [Post-Black Metal]
Waiting 4 April - Photo Memory [EP] (Self-released) [Post-hardcore]