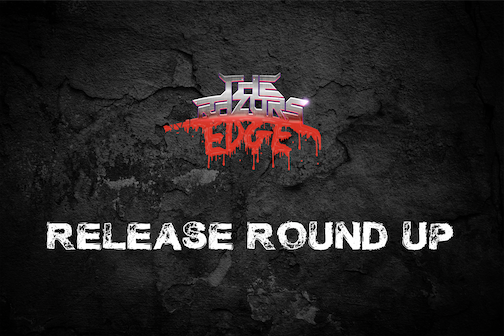 Release Round Up - June 24th, 2022
Every Friday there is a tidal wave of new music released unto the world. Whilst we try to cover as much as possible here at The Razor's Edge, it's not always possible to review everything. So each week on a Friday we'll round up some of the best new music available, some we've reviewed, some we haven't, but all worth checking out!
Theres a lot of new heavy music hitting the airwaves this week, everything from black metal, death metal, gothic metal, Stoner rock, doom, thrash metal and even some of your traditional heavy fuckin' metal!
Here's what we think you should check out today!
Kentucky's finest Black Stone Cherry "royally ruck this mother-fucker" on new live album 'Live From The Royal Albert Hall...Y'All', released this Friday on Mascot Records.
"Black Stone Cherry are timeless in their approach to the art of music."
Read our full review here.
As Werewolves release latest album 'From The Cave To The Grave' on Prosthetic Records, we predict the apocalypse.
"crushing, barbaric ferocity"
Read our full review here.
Welsh Noise/Sludge/Punk trio Made of Teeth release 'Sociopathogen' this week on APF Records.
"The blitzkrieg of the opening bars deliver a pounding attack"
Read our review here.
Saor feed off their Celt roots with 'Origins' released this week on Season of Mist.
"the combination of crushing black metal, folk elements and calming, gentle passages which provide respite from the aural storm that rages all around."
Read our full review here.
Guillotine A.D. mark their rebirth with 'Born To Fall', the first album under their new name.
"This record hits like a cinderblock wrapped in cotton wool, demonstrating a keen eye for tone and power."
Read our full review here.
Aussie thrashers Mortal Sin get the re-issue treatment via Cherry Red Records as both 'Mayhemic Destruction' and 'Face of Despair' come out this Friday.
"what it lacks in refinement, it makes up for in camaraderie, energy and chaos."
Read our full review here.
Two decades in Paganizer are still going strong and this week release 'Beyond The Macabre' via Transcending Obscurity Records.
"the guitars sound lethal with the riffs being just as equally catchy as they are razor sharp"
Read our full review here.
NWOBHM legends Tygers of Pan Tang release boxset 'The Wreck-Age/Burning In the Shade 1985-1987' on Cherry Red Records this week.
"some decent guitar work thanks to the duo of Neil Shepherd and Steve Lamb."
Read our full review here.
Danish death metal band Chaotian are set to unleash their full length debut album 'Effigies of Obsolescence' via Dark Descent Records.
"savage old school death metal riffs which are as putrid as they are barbaric."
Read our full review here.
And thats just the tip of the iceberg! Other releases today we think you should check out include...
Rock / Hard Rock / Classic Rock
Classless Act - Welcome To The Show (Better Noise Music)
Dali Van Gogh - New Blood, Old Wounds [EP] (WormholeDeath Records)
Danny Beardsley - Chase The Sun (Self-released)
Franky Perez - Crossing The Great Divide (Black Sea Music)
L.A. Cobra - Superstition (Crusader Records)
Mirror Queen - Inviolate (Tee Pee Records)
Mislead - Find Your Enemy (Self-released)
Nervus - The Evil One (Get Better Records)
Rebel Priest - Lesson In Love [EP] (Batcave Records)
RXPTRS - Living Without Death's Permission (Metal Blade Records)
Social Animals - Social Animals (Rise Records)
Heavy Metal
Alestorm - Seventh Rum of a Seventh Rum (Napalm Records)
Heavy Baby Sea Slugs - The Decline and Fall of Everything (Self-released)
Horned Wolf - Become Like They Are (Self-released)
I Fight Bears - Liberosis [EP] (Self-released)
Immortal Sÿnn - 7 Sÿnns (Self-released)
Mine Collapse - Delusions (Nefarious Industries)
Paul Di'Anno's Battlezone - Killers In The Battlezone (1986-2000) [BOXSET] (Cherry Red Records)
WhiteRoomNightmare - First impressions Last [EP] (Self-released)
Yeah, Sick! - Set To Devour Us All (Self-released)
Death Metal
Defiant - Vanguards of Misrule [EP] (Self-released)
Enchantment - Cold Soul Embrace (Transcending Records)
Entrails - An Eternal Time of Decay (Hammerheart Records)
Minipony - Ajna (Subsound Records)
Misgivings - Misgivings (Dolorem Records)
Nightbearer - Ghosts of a Darkness to Come (Testimony Records)
Our Dying World - Hymns of Blinding Darkness (Self-released)
Putricid - Suppuration (Awakening Records)
Regnant - Transvisceral [REISSUE] (Awakening Records)
Tyrannos - Spears of the Aten (Self-released)
Black Metal
Eihort - Consuming The Light (Self-released)
Khold - Svartsyn (Soulseller Records)
Serpents Oath - Ascension (Soulseller Records)
Volcandra - Border World (Prosthetic Records)
Stoner Rock / Psych / Doom / Sludge
10,000 Years - III (Interstellar Smoke Records)
BongBongBeerWizards - Ampire (Electric Valley Records)
Cachemira - Ambos Mundos (Heavy Psych Sounds)
Deep Space Mask - In Tenebris (Argonauta Records)
Enphin - End Cut (Pelagic Records)
Hush - The Pornography of Ruin (Self-released)
Mystery Dudes - Exit Through The Wormhole (Electric Valley Records)
Ornamentos Del Miedo - Yo, No Soy Yo (Nekromantra Records)
Processofguilt - Slaves Beneath The Sun (Alma Mater Records)
Radian - Discordian (Elburno Records)
Prog Rock / Metal
Coheed and Cambria - Vaxis – Act II: A Window of the Waking Mind (Roadrunner Records)
Gerald Peter Project - Incremental Changes, Pt. 2 (GRIDMusic)
Sarayasign - Throne of Gold (Melodic Passion)
Pathos & Logos - Cultura de la Muerte (Self-released)
Philosophobia - Philosophobia (Sensory)
And the rest...
Alexisonfire - Otherness (Dine Alone) [Post-Hardcore]
Fallen Sanctuary - Terranova (AFM Records) [Power Metal]
Final Light - Final Light (Red Creek) [Dark Metal/Synthwave]
Graywave - Rebirth [EP] (Church Road Records) [Shoegaze]
Hardrocker - Rider of the Night (RipRide Reocrds) [Thrash Metal]
Knoll - Metempiric (Self-released) [Grindcore]
Kollaps - Until The Day I Die (Cold Spring Records) [Post-Industrial]
Limbs - Coma Year [EP] (UNFD) [Post-Hardcore]
Mankind - Grief Monarch (Lacerated Enemy Records) [Deathcore]
Percy - Monorail (Self-released) [Post-Punk]
Petrol Girls - Baby (Hassle Records) [Punk]
Profiler - Profiler (Sharptone Records) [Metalcore]
sickOmania - sickOmania (Sliptrick Records) [Thrash Metal]
Suicide Silence - The Cleansing (Ultimate Edition) [REISSUE] (Century Media Records) [Deathcore]
Victorius - Dinosaur Warefare Pt. 2 - The Great Ninja War (Napalm Records) [Power Metal]
We Struck Gold - Feel Nothing [EP] (Self-released) [Metalcore]