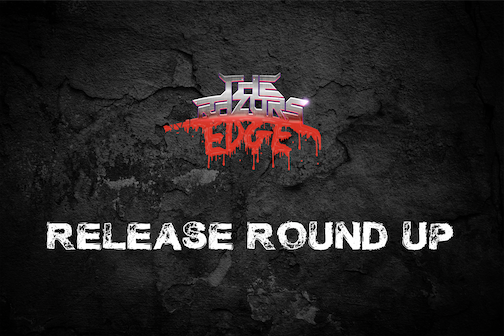 Release Round Up - July 16th
Every Friday there is a tidal wave of new music released unto the world. Whilst we try to cover as much as possible here at The Razor's Edge, it's not always possible to review everything. So each week on a Friday we'll round up some of the best new music available, some we've reviewed, some we haven't, but all worth checking out!
Theres a lot of new heavy music hitting the airwaves this week, everything from black metal, death metal, gothic metal, Stoner rock, doom, thrash metal and even some of your traditional heavy fuckin' metal!
Here's what we think you should check out today!
On it's 20th anniversary, Opeth re-release 'Blackwater Park' via Music For Nations.
"At times exquisitely beautiful, at other times concrete smashingly heavy, an album I could spend all day listening to and not get bored."
Read our review here.
British metal titans Paradise Lost release a live album 'At The Mill' this week, taken from their streamed show last November.
"There is a fragility and energy to the performance, you can tell the band members are revelling in each other's company, and loving actually playing music together again, just the sheer, pure raw emotion that pours out of the speakers."
Read our full review here.
Icelandic technical death metal outfit Ophidian I return after a nine year hiatus with album 'Desolate', released this week via Season of Mist.
"Brutal, heavy, melodic, intense, crazy, mad, bonkers, blinding, wizardry, ferocious!!!!"
Read out full review here.
To add to the tidal wave of great thrash albums released so far this year, Space Chaser throw their hat into the ring this week with 'Give Us Life'.
"At its heart 'Give Us Life' is an old school 80's thrash album and the influences are clear for all to hear. But unlike many of their contemporaries, Space Chaser manage to make an album of 10 excellent tracks that are each individual and defined while being part of the whole."
Read our review here.
Canadian power metal outfit Malacoda release their second E.P. of the year in 'The Strain' this week.
"Sweeping symphonic movements, dramatic vocals that switch from soaring cleans to guttural growling and a groundswell of heavy drumming and bass all combine."
Read our review here, and also check out their previous E.P. here and their trip to Devil's Island here.
Progressive, extreme due Wester Super Maim drop a vicious E.P. this week in '180 Degree Murder'.
"What is for sure, this is an interesting and fresh piece of work that is unlike much of the music you'll listen to for the rest of 2021."
Read our full review here.
Wyoming's doom kings Fell Harvest follow up their 2020 E.P. with a new album 'Pale Light in a Dying World', out this week.
"'Pale Light in a Dying World' has a grim and cold feel to it, something that everyone can relate to."
Read our full review here.
Hardcore hits you right between the eyes when Total Recall drop 'Always Together' this week.
"Always Together is a sonic wrecking ball that will leave you bloodied and beaten, yet utterly exhilarated."
Read our full review here.
Razor, members of the Canadian big four of thrash release their classic 'Escape the Fire' album this week, an album which didn't properly see the light of day originally.
"'Escape the Fire' is rawer than a butcher's counter on a Saturday morning, with the blood still dripping on the floor."
Read our full review here.
Italian doom merchants Bottomless release their self-titled album this week on Spikerot Records.
"Energy infused songs with a heavy doom influence, guaranteed to keep your fingers and toes tapping and your head shaking."
Read our review here.
And thats just the tip of the iceberg! Other releases today we think you should check out include...
Heavy Metal
Mortyfear - My Dystopia (Inverse Records)
Jason Payne & The Black Leather Riders - The Abyss (Self-released)
Rubicon - Demonstar (Rock City Music)
Times of Grace - Songs Of Loss And Separation (Wicked Good Records)
Trapézia - Ecila (Self-released)
Valyear - Revolution Fear (WormholeDeath Records)

Rock
The Hornets - Heavier Than A Stone (Go Down Records)
L'Uomo Nero - Elle, De La Mer [EP] (Desert Records)
Shotgun Mistress - Shotgun Mistress (Crusader Records)
Velvet Insane - Rock 'N' Roll Glitter Suit (Wild Kingdom Records)
Solar Haze - The Solar Age (Metal Assault Records)
The Bardogs - Southern Soul (Bad Reputation)
Black Metal
Onirica - Burning The Ashes (Vacula Productions / BMC Productions)
Dimentianon - Dreaming Yuggoth (Paragon Records)
Death Metal
Chestcrush - Vdelygmia (Self-released)
Mask of Satan - Underneath the Mire (Iron, blood and Death corp)
Silent Obsession - Countdown (Self-released)
Cognitive - Malevolent Thoughts Of A Hastened Extinction (Unique Leader)
Death on Fire - Six Foot Box (Self-released)
Dungeon Serpent - World Of Sorrows (Nameless Grave Records)
Hell Strike - Hellstrike (Chaos Records)
Molis Sepulcrum - Left for the Worms (Pulverised Records)
Vomit Ritual - Callous (Pulverised Records)
Deathcraeft - On Human Devolution (WormholeDeath Records)
Parasitic Entity - The Self-Aggrandising Lie (Spirit Coffin Publishing)

Doom / Sludge / Stoner Rock
Clouds - Departe [Re-issue] (Personal Records)
Spiral Grave - Legacy of the Anointed (Argonauta Records)
Wizardthrone - Hypercube Necrodimensions (Napalm Records)
Thrash Metal
Underball - The Best Is Yet To Cum (Self-released)
Nothing Sacred - No Gods (Rockshot Records)
Prayer Line - Thrill Me, Lick Me, Fuck Me, Kill Me (Self-released)

And the rest...
Interstitia - Hermes Slips The Trap (Pax Aeternum) [Electronic/Ambient Noise]
Wizzerd / Merlin - Turned to Stone Chapter III: Wizzerd vs Merlin [Split EP] (Ripple Music) [Heavy Psych/Prog Rock]
Lower Automation - Lower Automation (Zegema Beach Records) [Mathcore/Noise Rock]
The Grasshopper Lies Heavy - A Cult That Worships A God Of Death (Learning Curve Records) [Post-hardcore]
Thadeus Gonzalez - Opposite Faces (Rebel Waves Records) [Post-punk]
Powerwolf - Call of the Wild (Napalm Records) [Power Metal]
Vandor - On A Moonlit Night (Scarlet Records) [Power Metal]
Knecht - Knecht (Self-released) [Prog-metal]