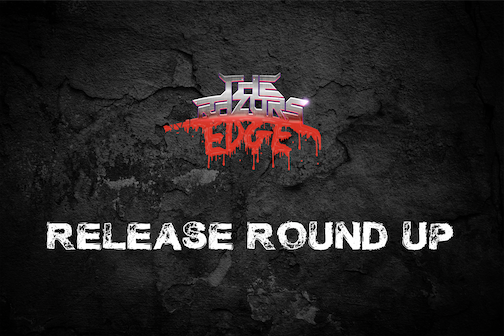 Release Round Up - August 5th, 2022 
Every Friday there is a tidal wave of new music released unto the world. Whilst we try to cover as much as possible here at The Razor's Edge, it's not always possible to review everything. So each week on a Friday we'll round up some of the best new music available, some we've reviewed, some we haven't, but all worth checking out!
Theres a lot of new heavy music hitting the airwaves this week, everything from black metal, death metal, gothic metal, Stoner rock, doom, thrash metal and even some of your traditional heavy fuckin' metal!
Here's what we think you should check out today!
Viking marauders Amon Amarth are back with album number 12 'The Great Heathen Army' released via Metal Blade.
"waves of pummelling guitars crash down upon you as you get enveloped by this album."
Read our full review here.
Max Cavalera returns with Soulfly this week as 'Totem' is released via Nuclear Blast.
"Max's riffs are as bad ass as you hoped for"
Read our full review here.
Richmond, Indiana's brute-force killing quintet, Carrion Vael release 'Abhorrent Obsessions' via Unique Leader.
"crunching guitars, whirlwind riffs and fretboard runs."
Read our full review here.
The Dublin death grind machine that is Abaddon Incarnate drop 'The Wretched Sermon' this week on Transcending Obscurity Records.
"Abaddon Incarnate's raw approach to songwriting brings a series of unrelenting tracks which form The Wretched Sermon."
Read our full review here.
Gothenburg based newcomers Ominum unleash 'Monument' via Witches Brew this week.
"nine bone crunching tracks"
Read our full review here.
Texas' Fleshrot return to bludgeon and lacerate with debut album 'Unburied Corpse'.
"Disgustingly addictive debut"
Read our full review here.
London thrashers Imperium drop their self titled EP ahead of their appearance at Bloodstock.
"'Here Comes the Night' which kicks open the EP with a size ten boot and a feisty riff that demands you immediately stop what you are doing and look up."
Read our full review here.
Psycroptic deliver technically precise death metal on 'Divine Council' via Prosthetic Records.
"Psycroptic nailed how you do tech death with this release."
Read our full review here.
Shuriken Cadaveric Entwinement drop 'Constructing The Cataclysm' this week on Comatose Music.
"It's savage, relentless"
Read our full review here.
Guitar legend Bernie Marsden releases 'Trios' on Conquest Music.
"'Trios' is a joy to listen to."
Read our full review here.
The industrial drone of Fearsore releases 'Bloedwyrx' via Dead Sage Records.
"For all its dark and foreboding atmosphere, Bloedwyrx is a real journey of experience."
Read our full review here.
And thats just the tip of the iceberg! Other releases today we think you should check out include...
Rock / Hard Rock / Classic Rock
Cazimi - Signals [EP] (Self-released)
Def Leppard - Adrenalize [Vinyl Reissue] (Mercury Records)
Def Leppard - Euphoria [Vinyl Reissue] (Mercury Records)
H.E.A.T. - Force Majeure (earMusic)
Odd Circus - Deus [EP] (Good Idea Music)
Heavy Metal
Disconnected Souls - Kintsukuroi [SINGLE] (Self-released)
Einherjer - Norse And Dangerous (Live... from the Land of Legends) (Napalm Records)
Speaking to stoneS - (in) human error (Animated Insanity Records / No Dust Records)
StormbounD - December (Self-released)
Death Metal
Eradicate - Demise Towards the Dasein (Godz ov War Productions)
Fall and Resist - Darkness of Now [EP] (Self-released)
Hautajaisyö - Ei hauta kysy lupaa (Inverse Records)
Master - The Human Machine [REISSUE] (Hammerheart Records)
Master - The New Elite [REISSUE] (Hammerheart Records)
Black Metal
Blossom - Death's Serenade (Oak, Ash & Thorn Records)
Liminal Shroud - All Virtues Ablaze (Willowtip Records)
Stoner Rock / Doom / Sludge / Psych
Aeir - A Frith Befouled (Moment of Collapse Records)
Bong-Ra - Meditations (Tartarus Records)
Extermination Day - Be The Consequence (Hoove Child)
Grave Bathers - Rock 'N' Roll Fetish (Seeing Red Records)
Planet of the 8s / Duneeater - Turned to Stone Chapter 5 [SPLIT ALBUM] (Ripple Music)
Thrash Metal
B O Z - Fury of Pegana (Self-released)
Metalcore
In Hearts Wake - Green Is The New Black (UNFD)