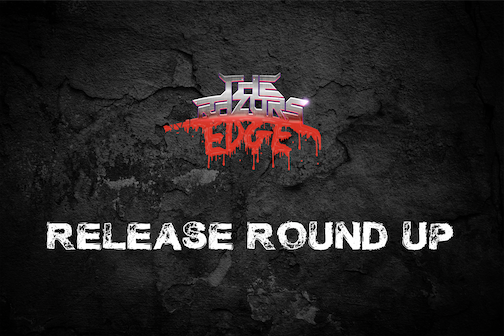 Release Round Up - April 30th, 2021
Every Friday there is a tidal wave of new music released unto the world. Whilst we try to cover as much as possible here at The Razor's Edge, it's not always possible to review everything. So each week on a Friday we'll round up some of the best new music available, some we've reviewed, some we haven't, but all worth checking out!
Theres a lot of new heavy music hitting the airwaves this week, everything from black metal, death metal, gothic metal, Stoner rock, doom, thrash metal and even some of your traditional heavy fuckin' metal!
Here's what we think you should check out today!
French metal masters Gojira release their seventh studio album 'Fortitude' this week via Roadrunner Records.
"Over the years some have questioned the longevity of Gojira and their sound, but 'Fortitude' proves that not only does the bands sound and direction work perfectly, but that they are the future of the heavy genre we love so much."
Read out full review here.
British thrashers Evile make a welcome return this week, with a fresh line up 'Hell Unleashed' is a blistering beast of an album.
"From the word Go, Hell Unleashed is a thrasher's wet dream. Filled with unrelenting driving rhythms and crushing guitars, this is the sound of a band back and ready to retake their place at the top of the pecking-order."
Read our review here and check out our interview with frontman Ol Drake here.
And check out the video for 'The Thing (1982)' below!
Staying with Thrash there are three more killer releases this week!
Legendary German thrashers Destruction give their original demos 'Bestial Invasion of Hell' the re-issue treatment this week, thanks to High Roller Records.
"It is easy to see how Bestial Invasion Of Hell led to Destruction being signed and the rest as they say is history as Destruction continue to be a force to be reckoned with in thrash metal in 2021. A great thrash history lesson."
Read our review here.
British thrashers Trendkill drop a beast of a new single today!
"At full flight there is little to do but bang that head, as this is a bit of a rager. The guitar work links sweetly with the rock-solid rhythm section, Jonny Stern's playing fluid and blends influences of numerous guitar heroes with his own style."
Read our review here.
Classic thrashers Viking give two of their albums the re-release treatment this week. High Roller Records release both 'Do or Die' and 'Man of Straw'.
"These two reissues are solid late 80's thrash albums which whilst overlooked at the time of their release can hopefully reach a new audience over 30 years later. There are old school thrash fans I know who have never heard of Viking. Let's hope the new availability of this material can help remedy that."
Read our review here.
This week sees the release of an intriguing E.P. Elecromancy's 'Robot Black Metal' does exactly what it says on the tin... it's black metal, performed by robots.
"This will sound harsh and inappropriate, but this is where this fusion of music with machines leaves me cold. There's no feeling or warmth generated by this robot band. It's colder than those artic frosts."
Want to know more? Check out our full review here.
Norwegian black metallers Vreid release their ninth studio album this week. 'Wild North West', comes out on Season of Mist.
"The soundscapes are gloriously cinematic, the content ranging from raging thrashing passages through to more melodious melancholy. Certainly, an album that is worth exploring in some depth."
Read our full review here.
Staying with black metal for a moment, there are a shed load more releases this week.
Dyrnwyn release 'Il Culto Del Fuoco', Fyrnask release 'VII - Kernoma', Niadh release 'Our Victory is Eternal', Ninkharsag release 'The Dread March of Solemn Gods' and Ungfell drop 'Es Grauet'. More than enough black metal to moisten the lips of the genres hardened fans!
The most intriguing grindcore album your are going to hear this year! Animal Schoolbus are the pairing of Charlie Sad-eyes and his young vocalist daughter Princess Beast and today they release 'Going To Grammy's House 2021'.
"This is exactly what music should be all about, fun, exciting, and will make you laugh and cry in equal measure, and if you have kids, then we all know that 'Fruit Snacks Aren't Candy, They're Fruit Snacks' however many times we try to proclaim otherwise."
Read our review here.
Ewïg Frost meld elements of blackened rock n roll, brass sections, thrash and groove on 'Aïn't No Saïnt', which is released today.
"'Ain't No Saint' isn't subtle. Hellfire roars from the exhaust pipes of this finely tuned machine. The post-apocalyptic imagery matches their sound, edgy, angry, and totally absorbing."
Read our full review.
Church Road Records release another banger of an album this week with Cruelty's 'There Is No God Where I Am'.
"When you adopt the name Cruelty you know you are going to have to walk the walk and the band's pummelling take on Metalcore meets Post-Hardcore is a sustained noise attack from start to finish."
Read our full review here.
Death metal fans have more than enough music to keep their ears bleeding! Mortifero release 'The Death Ballads' E.P., Ageless Oblivion have  a new album in 'Suspended Between Earth and Sky', Aschenvater release E.P. 'Landungsfeldmassaker', Goregang release 'Long Live The Grime', Screaming Banshee have 'Pierceive' out today, Sol de Sangre release 'Despair Distiller' E.P. and The Plague drop 'Within Death'.
Classic New Wave of British Heavy Metal outfit Ritual give the re-release treatment to their 1993 album 'Valley of the Kings' today via High Roller Records.
"'Valley of the Kings' reeks of the early 1980s, but despite its somewhat clunky construction, there is something pleasing about the retro style of the play and atmosphere. It won't win any awards but if you fancy a trip of over 30 years in the past, this is a record that will do the job for you."
Read our review here.
Australian psychedelic blackened death metallers Plasmodium release sophomore album 'Towers of Silence' via Transcending Obscurity Records today.
"Towers Of Silence is not an album for the faint hearted. Even the most staunch extreme metal fan might not be able to stomach the all-encompassing horror that this album unleashes."
Read our review here.
Lost Relics release 'Now We're Even' this Friday. An E.P. full gritty, monstrous riffs that threaten to wake the dead!
"Brace yourself for 25 minutes of piledriving intensity. Seatbelts mandatory always and keep those hands inside the cars. It's hell of a ride."
Read our full review here.
Elsewhere, Clouds re-issue 'Doliu' the second of their recent album re-releases and gothic rockers Dark release 'Inside The Void'. For some classic heavy metal Bloody Hell drop E.P. 'The Bloodening' and members of Baby Metal's band release an album under the Kari-band moniker.
Plus there is new music from Off The Cross, Stormwind, Sonic Desolution, Silent Verdict, Before We Fall, Another Dead Hero, Tokyo Blade, Poverty's No Crime, Dead Beat Jacks, Broken Links, Yellowtooth, Alpha Bootis and Bevar Sea
And thats just the tip of the iceberg! There is so much new music out today for you to get your groove on to. Enjoy it all!